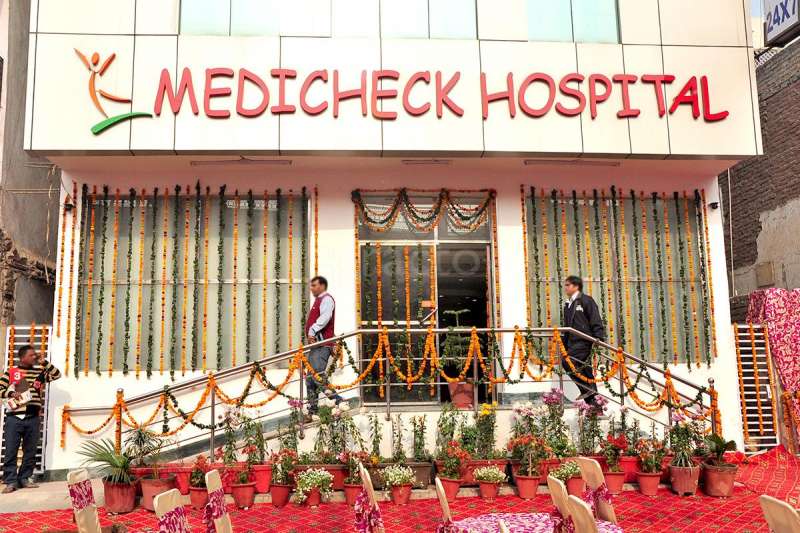 Medicheck Hospital
Medicheck Ortho is a multi-specialty hospital directed by Medicheck Group of Hospitals in Delhi NCR, to provide full facilities and cater the need of super-specialty care in Orthopaedics. The director, medical staffs named Dr R S Verma, Dr Sunil Raina, Dr Sumit Verma & Dr Ranjeeta Verma aim to establish the brand of Medicheck in the healthcare industry.
This is an affordable health care center for the residents of Faridabad. Medi check-in the existence for the last 6 years, includes Ortho Superspeciality, Clinic, Diagnostic Centre, and Fertility Centre. Medicheck Hospital is located in Faridabad with 100 beds. We are a huge team of doctors under one roof.
Medicheck Multispeciality Hospital is well equipped for 24/7 emergency and trauma services availability. Herein full of amenities ICU with ventilators, intensives the head of the ICU department with a team of well-trained medical staff and critical care nurses who amicably cares and treats ill-conditioned patients.
We have separate septic NICU departments for neonatal are required special separate care of other babies due to their suspicious infection. Along with Dialysis facility for every patient with renal failure you can avail here.
Case Studies
During the case studies, we come up with a scenario to make your hospital full-fledged either its hospital jobs, workflow, patient data management and other important medical records. Sometimes it seems a very stressful job for medical staff, thus to bring them some relax and relieve here we present a digital solution to manage the day to day hospital operations hassle-free.
A large number of problems have been faced in dealing with patients which results in poor patient care and dissatisfaction in delivering timely care. It is an extremely troublesome problem with hospitals that directly impacts patient engagement. Despite there are many things to notice like patient long queues, no appointment booking option. If the hospital seeks convenience and comfort, then Hospital Software is the best choice at an affordable investment to automate the entire hospital/clinical practices.
Solution
We provide a solution for every size of hospitals, clinics, and healthcare organizations. Our Hospital Management Software digitally takes your business to the next level by improving workflow, productivity, and profitability. It helps to automate the entire hospital without any work burden, safe and secure, no fear of data loss, patient admissions, transfers and discharge summary.
Additional Elements Are Mentioned Below:
Own Hospital Software with quick installation and go paperless
Automate your hospital with auto-generated e-prescribing, invoice & billing
Queue Management also helps to reduce time, cost and energy
appointment scheduling for patients
Auto SMS/Email notifications sent to the patients for upcoming appointments
Create treatment plans with a software system
Results
Now running the hospital with HMS (Hospital Management Software) exclusively putting you at ease and comfort throughout the workflow. It helps to alleviate stress and bring more efficiency to the hospitals. Even it cuts the cost and pushing you to reach a higher level. A hospital owner can see the differences in hospital workflow and other related aspects with software or without. Ultimately, it assists in delivering quality care on time to the patients in every corner.