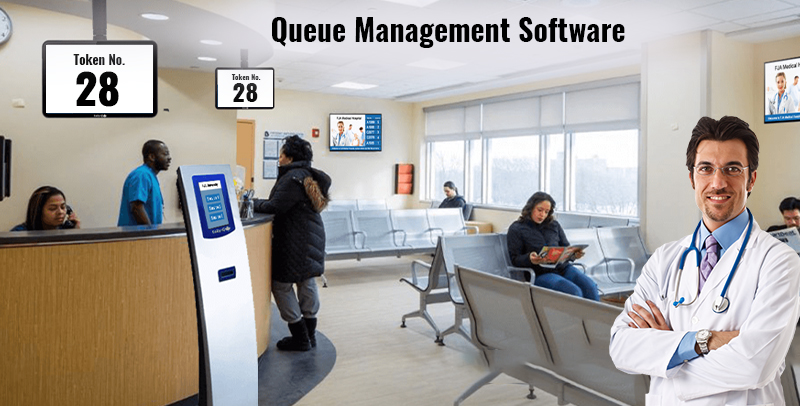 2020-01-02 12:24:35
What kind of questions come to your mind when sees long queues in the hospital waiting room. Now don't let your patients wait for long hours because digital Queue Management Software took place in health care organizations. The way hospitals were used to work earlier has been transformed with a smart management system.
Queue Management System assists you to organize waiting lines better by decreasing patient waiting times. It provides ease & comfort "first come in first out" very user-friendly interface. This digital system will get you full control over services and organize queues hassle-free.
Improve the level of your service and organize waiting lines better that allows you to control full set up with a quick queue management solution. The software is very efficient and powerful to deliver a service without any hassle and improve the patient experience. Now no patient will become the part of the crowd at hospitals because queuing is digitally managed. When it comes to time a busy schedule is a part of everyone's life thus, nobody wants to waste time waiting for his/her turn.
In short Queue Management Software eliminating patient crowd at the hospital with a smart computer-based queuing system. We've picked a good solution to make the queuing system fully functional to satisfy your patients with better experience. We have the best version fits your needs.

Key Features

A complete system that caters to all your demands with an amazing patient flow for self-service. Our Queue Management System functionality is easier and simpler for rich patient experience. We are highlighting some of the dominant features, making your work faster.
· Predicts waiting time right
· Customize your settings
· Easy integration with different portals
· Organize your lines and manage patient flow
· Minimize queue length & improve patient satisfaction
· Streamline your operations
· Predictive analysis & patient journey mapping
With these features, you can manage hospital long queue hassle-free. Nowadays hospitals have a lot of work burden they need to manage all, a smart software adoption might work great for them. At one time investment, you'll enjoy various features like to manage scheduled appointments, online reporting, alert, ticket format, etc.
Selecting the right software is a crucial decision that lets you do work more comfortably without any disturbance. We are providing Queue Management Software in India at an affordable price, improve performance, manage queue displays and queue dashboard, etc. We understand the challenges come in hospital work, but somehow we do our best to assist healthcare organizations as much as possible.